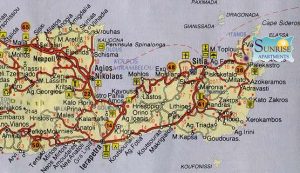 Sunrise Apartments locates at the eastern part of the island of Crete, in the prefecture of lasithi, municipality of Sitia, at the village Palekastro, 1,5 km outside the village ,on the road to Vai and the beach of Kouremenos, the famous beach for the windsurfers.
Bild in the middle an olive field up on a little hill at the region by name "Helonaria" have fantastic view to the sea and to the lowland that is spread front .
Away from the main road is ideal place for family's with children..Provides big garden with roses and trees such as apricots, bananas,,Grenadines,peaches and more and parking for free. The nearest beach "Plakopoules", famous beach for windsurfing is only 500 m away from the apartments
All the apartments has it 's own terrace and the furniture that it needs to relax under the shadow of the grapes and if the grapes are ripe around August , you can cut it and taste it .. The endless nature that surround the apartments and the peace of the place that is interrupted only by bird singing and " Cikadas" will make you to leave behind all the problems and concerns that bother you the rest of the year and will make you to calm and relax like never before !!
Your stay at the Sunrise Apartments will be a unique experience of your life !!
And for our affords all this years here is the recent prize from the biggest tourist agency all around the world..
Booking policy..
To book one apartment you have to make an advance payment 30 % of the total cost of your stay after the booking..you can do this either with credit card, paypal or bank account that will be given to you after our contact..
Cancelation policy..
You can cancel your booking 30 days before your arrival and the whole amount will return to you substruct the commisions of the bank or paypal.after this period the advance payment is no refundable even for no show situations..
Cleaning Policy
During the stay to the apartments the cleanness of the apartment is entire responsibility of the customer.we provide all the necessary tools for this.
Every 4 days we provide general cleaning with everything,refreshing-changing towells,sheets.all